Creating Powerhouses of Learning through Light
Learning should be fun. With perfect perception, emotional support and health. For well-being, creativity and improved learning processes. This is how  schools become powerhouses of learning.

The Book of Light
This premium-quality book chronicles an international journey visiting selected lighting solutions from Zumtobel. Light is life. And so our primary aim is to make people's surroundings noticeably more pleasant through the use of unique concepts. Browse through the following pages and find some inspiration for your own personal book.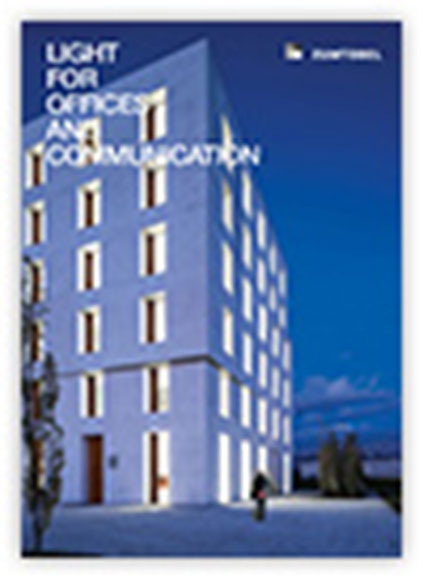 Light for Offices and Communication
Users are at the heart of contemporary office concepts and hence interior design and office lighting. Intelligent lighting solutions help to increase people's sense of well-being, to create identity and at the same time cut costs. Lighting solutions by Zumtobel create working conditions that make people feel good, thus motivating them and helping them concentrate on doing their job.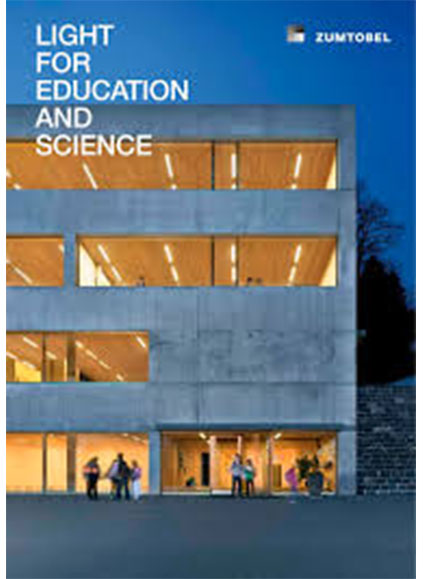 Light for Education and Science
Light for Education and Knowledge that creates optimum learning conditions. Glare-free daylight, friendly colours, ergonomic furniture and flexible lighting solutions help produce adventure spaces that boost motivation to learn. A sensible combination of daylight and artificial lighting, thanks to intelligent control systems, decisively improves the perceived attractiveness of spaces and also makes it possible to fully exploit potential energy savings.
Light for Presentation and Retail
Shopping is increasingly becoming a leisure activity that is influenced by centre-stage lighting solutions. Light is used in order to arouse emotions and create brand identities. When used intelligently, light has the potential to stimulate the propensity to purchase and boost sales. Zumtobel lighting solutions strike a perfect balance between lighting quality and energy efficiency.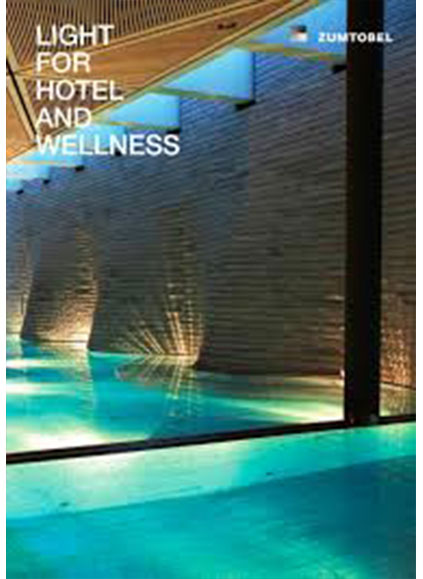 Light for Hotels and Wellness
A good hotel is a home from home. The way in which rooms are designed with materials, colours and light make a decisive contribution towards feeling at ease. Light that welcomes guests and caters for their desires and moods at the press of a button leaves guests with fond memories. It gives guests the impression of being valued, while saving energy and hence the environment.
Light for Art and Culture Special 2016
Only through light can art truly become an experience. The perfect presentation of paintings, photographs, sculptures and archaeological artefacts requires a deep understanding of the respective space, the medium and the curatorial theme. Effective lighting concepts follow the planning principles of museum lighting. A successful lighting design will encompass the four dimensions of light – direction, intensity, colour and time – to create a fascinating single entity.
Light for Health and Care
Light and colour play an important role in promoting health: Dynamic room scenes that mimic natural lighting conditions can enhance a sense of well-being and assist convalescence. Intelligent lighting management systems combined with flexible lighting solutions make it possible to simulate daylight-like lighting that is in harmony with human biorhythms.
Light for care
Eyesight usually deteriorates markedly in old age. Consequences include reduced perception of depth and colour and poorer eye accommodation. A professional lighting solution that can be adapted to suit such circumstances can significantly improve quality of life in care facilities. It takes into account the fact that older people generally require more light and their increasing sensitivity to glare.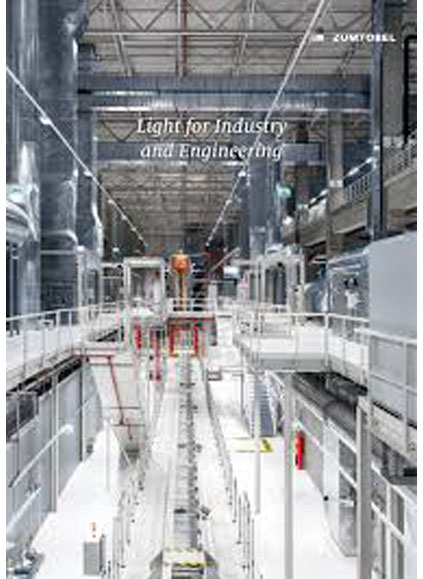 Light for Industry and Engineering
The right lighting at the workplace helps to enhance staff members' performance and motivation as well as their sense of well-being – this applies to shift workers in large industrial bays as well as to specific manufacturing areas. Used properly, an advanced lighting solution helps to optimise conditions at workstations in manufacturing bays, increasing motivation and preventing fatigue and, thus, industrial accidents.
Light for industry and engineering (folder)
The right light design at the workplace helps to enhance the staff members' performance and motivation as well as their sense of well-being – this applies to shift workers in large industrial bays as well as to specific manufacturing areas.
Light for Industry and Engineering: Surface-Check Lighting
Intelligent machines are increasingly replacing manual labour, yet people are still crucial when it comes to quality control. Why is that? The human eye has the unique capacity to check for subtle flaws and irregularities on different surfaces. However, detailed inspections can only be performed effectively in optimal ambient conditions – making quality lighting an essential part of quality control.

Light for industry and engineering: Logistics
Frequently, logistics halls comprise enormous cubic content, and accordingly the energy requirement for lighting is very high. Therefore, energy efficiency is one of the core topics, also – especially the daily operating costs. There is a huge saving potential by upgrading your old lighting installation to the latest lighting technology, in terms of both energy costs and maintenance. The added value of a new lighting solutions is based on the benefits provided by innovative luminaires and intelligent lighting control: LED luminaires open up a new dimension in terms of durability, reliability and efficiency. Higher illuminance levels and improved glare control enhance the employees' productivity and helps avoid errors.
Light for industry and engineering: Metal working
Industrial luminaires have to resist dust, oils and lubricants every day, particularly when it comes to metal working. However, often the height of the applications means that they are rarely cleaned. As a result, the luminaires have to rely on special design principles and materials if they still want to provide an optimum performance in demanding environments. It goes without saying that industrial luminaries from Zumtobel have a higher degree of protection. Specially designed surfaces make it hard for dirt and foreign bodies to stick to them, reducing the cleaning work to a minimum. Luminaires made of PMMA are also resistant to aggressive cleaning agents, oils and lubricants.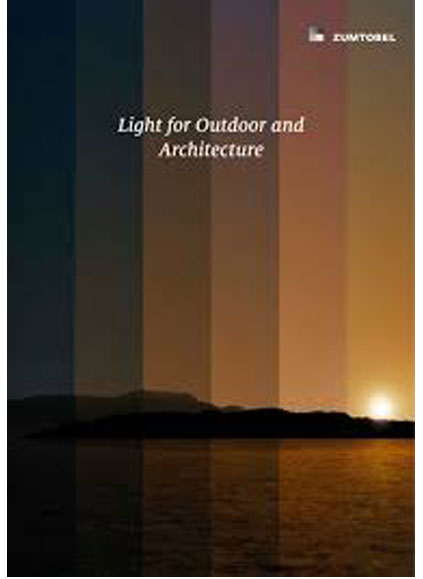 Light for Outdoor and Architecture
Zumtobel wants to give people their nocturnal environment back by supporting the optimum quality of life and human experience. We offer a highly versatile toolbox of light, which empowers our partners to enhance outdoor spaces and architecture with thoughtful, adaptive, multi-layered lighting concepts that are tailored to human needs – solutions that model the space precisely with the right quality of light in the right place at the right time.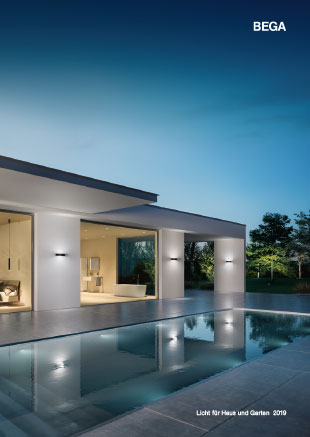 Light for the house and the garden 2019
"Light for the house and the garden" is a selection of luminaires from our complete range, which are particularly suitable for the illumination of private environments. They provide stylish, carefully coordinated and high-quality lighting for linking outdoor spaces with indoor areas.
BEGA Plug & Play The smart LED light system for illuminating your garden
BEGA Plug & Play is the smart LED light system for illuminating your garden. Simply position the portable luminaires in your garden, configure them with the comfortable BEGA Smart app and then switch and dim them individually by remote control.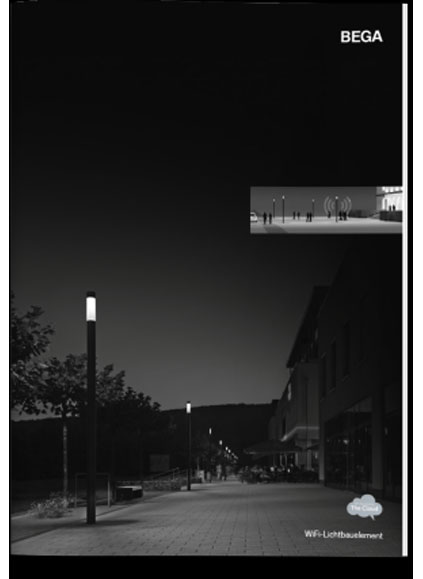 WiFi light building elements
BEGA WiFi light building elements are luminous and structure-forming components for public areas.These luminous design elements are needed for example in pedestrian zones or in public places in inner-city areas.These are the places where publicly accessible WiFi is in demand and almost taken for granted today. We havedesigned and developed the new BEGA WiFi light building elements specially for these requirements – bringinglight and WiFi together in one place.